Description
Micah Kāne is the President & CEO at Hawaii Community Foundation. The Foundation is one of the largest charitable foundations in Hawaii and distributes $50 million dollars anually. A graduate of Kamehameha High School Micah is a pillar in the community. He sits on the board of Hawaiian Electric, Kamehameha Schools, Malama Learning Center and Konishki Kids. This week he is in the Cooking Hawaiian Style Kitchen sharing one of his favorites, The Kitchen Sink Chow Fun.
Instructions
Heat oil in wok.
Add ginger and garlic and half of the Maui onion.  Stir fry for one minute.
Add chicken first.  Stir fry for two minutes.
Add char siu and roast pork.  Stir fry for two minutes
Add shrimp.  Stir fry for one minute
Add half of shoyu and oyster sauce
Add bag of mixed vegetables
Add chow fun; cook 1 minute or until noodles separate and lightly browned.
Taste and add balance of oyster sauce and shoyu (add to desired taste)
Garnish with green onion and kamaboko fishcake just before serving.
Summary
| | |
| --- | --- |
| Yield | |
| Prep time | |
| Cooking time | |
| Total time | |
Ingredients
1⁄2 lb
Char Siu (Thinly sliced)
1⁄2 lb
Roast Pork (Thinly sliced)
1⁄2 lb
Boneless chicken (Soaked overnight in shoyu, ginger, sugar sauce. Cut into ½ inch pieces.)
1⁄2 lb
Shelled shrimp (cut into ½ inch pieces)
1⁄2
Pink kamaboko fishcake (Thinly sliced for garnish)
1⁄2
Ginger (Thumb sized, thinly minced.)
1
Maui Onion (Sliced to desired size)
2
Taro Brand Chop Suey Mix (Cabbage, carrots, celery and bean sprouts)
1⁄2 c
Green Onion (Chopped in ½ inch length)
5 pk
Chow fun noodles (Already Cooked)
Notes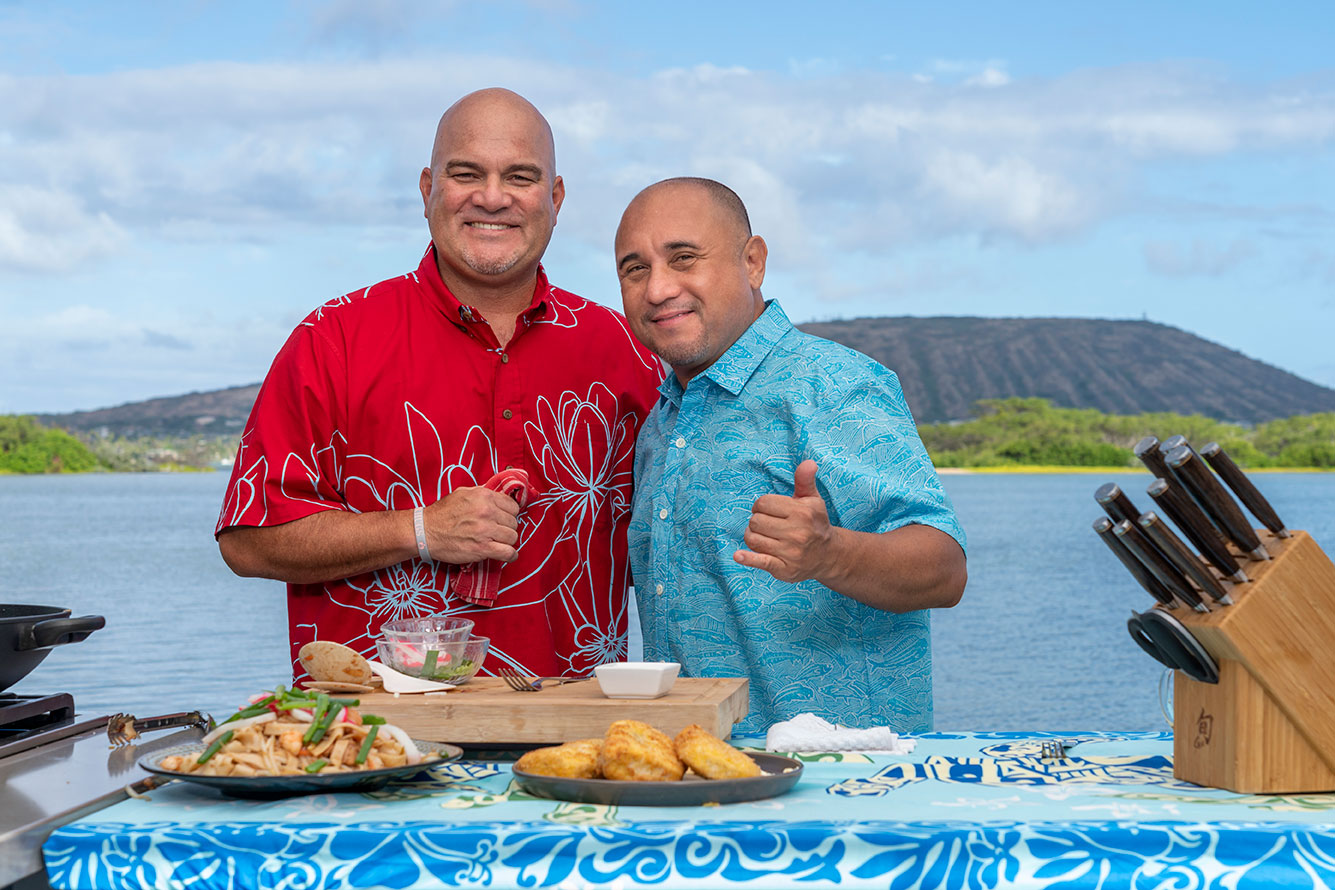 Copyright ©2020 Ryan Sakamoto. All Rights Reserved.