Description
Chef Jeremy Shigekane has taken over the reigns at the world famous Mavro's restaurant known now as M by Chef Mavro.  He was the executive chef at Mavro's for 3 years and his food never disappointed. Opening in 1998 Mavro's was known for their "set menus" which are the perfect meal, and M by Chef Mavro continues that tradition. The wine selection and pairing are always on point. I like the way chef Jeremy uses local ingredients and local fish. His recipes are simple and clean with an upscale appeal. He is one of those chefs that can make a package of ramen into a 5-star experience. Today chef Jeremy is back sharing his Catch of the Day with Sauce Vierge and Roasted Heart of Palms recipe.
Instructions
Ingredients with measurement
Ono Fish – 4 filets, 5 oz. each
3oz heart of palm
Sauce vierge
1.5lbs - 5x5 tomatoes, large diced, core removed 
5ea - large cloves garlic, sliced thin
2 Tblsp shallots or yellow onion, diced
2 oz olive oil
1/4 tsp aleppo pepper or
1/8 tsp red chile flakes
Optional (1/4 cup of each)
fresh chopped herbs- tarragon, chive, parsley, chopped ogo 
Sweat garlic, shallots on olive oil for 3-5 minutes until translucent. Add aleppo pepper and chile flakes and sweat for another minute until fragrant.  Add tomatoes and cook on medium high heat for about 10-15 min until soft and sauce becomes thicker. Finish with herbs, let cook for about 30 seconds and serve.
For catch of the day 
Preheat oven to 300 degrees. Let fish come to temperature for about 5-10 min. 
Bake fish depending on type of fish for 8-10 minutes. 
Heart of palm
3oz heart of palm
1oz olive oil to coat
Heat oven to 425 degrees.
Cut heart of palm into rounds about 1 inch thick. Season with salt and pepper and drizzle with olive oil to lightly coat. 
Roast in oven at 425 degrees for about 20-25 minutes until tender and browned.
Plate chicken with hearts of palm and sauce.
Summary
| | |
| --- | --- |
| Yield | |
| Source | Chef Jeremy Shigekane |
| Prep time | 20 minutes |
| Cooking time | 10 minutes |
| Total time | 30 minutes |
Ingredients
20 oz
Ono Fish (Four 5 ounce Filets)
1 1⁄2 lb
Tomatoes (5x5, Large diced, core removed)
2 T
Shallots or Yellow Onion (Diced)
1⁄4 c
Fresh chopped herbs- tarragon (Optional)
1⁄4 c
Chopped Ogo (Optional)
Notes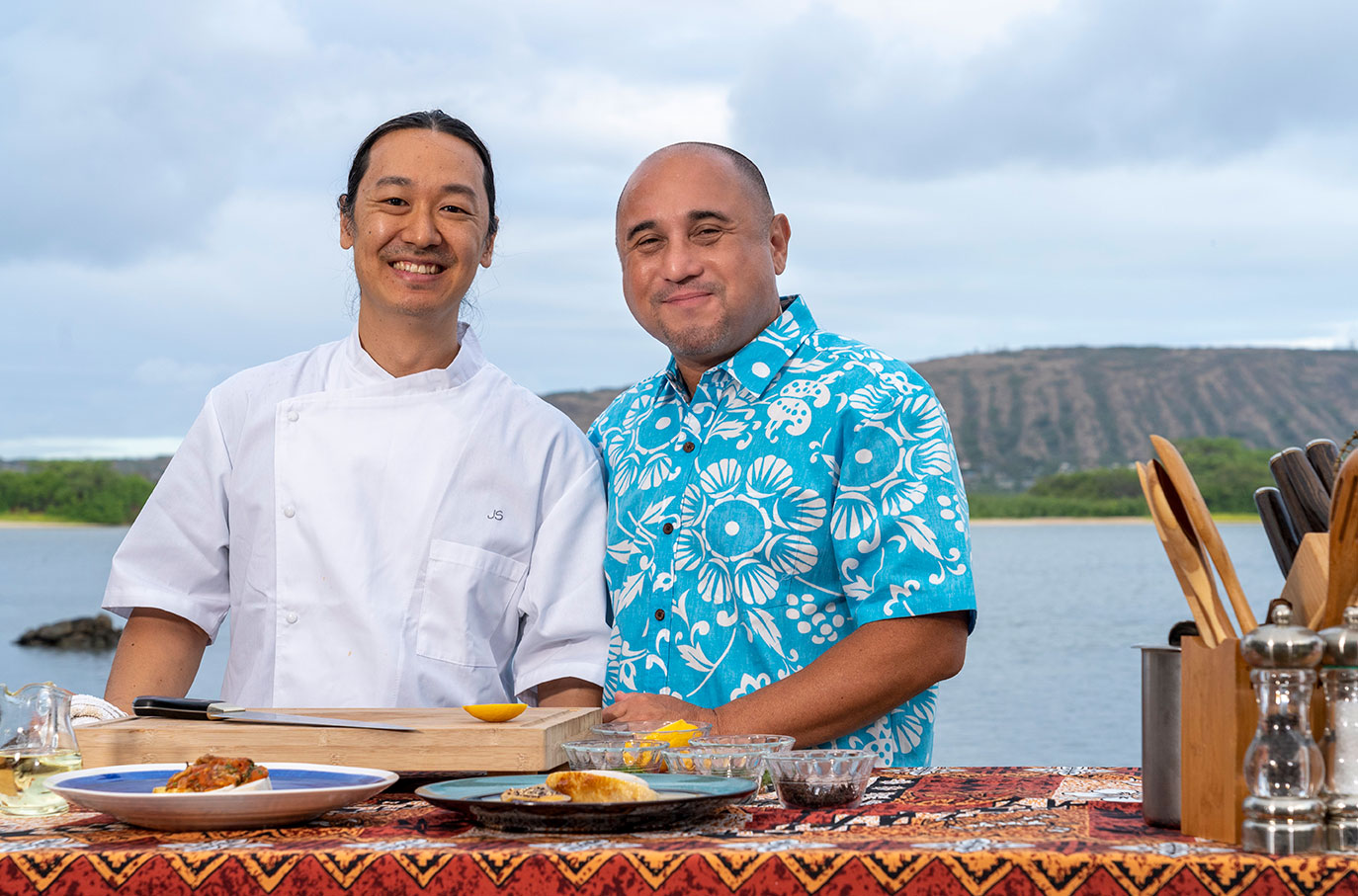 Copyright ©2020 Ryan Sakamoto. All Rights Reserved.