Description
Jason Takemura is the owner and chef of Bamboo Catering. Bamboo Catering is an elegant catering experience that uses local and sustainable ingredients. Chef Jason is no stranger to great restaurants and food as he has worked with Chef Chai of Chai's Bistro and also the Hukilau Honolulu. His menu is unique with things like foie gras mousse, baked oysters, and sous vide pork belly fried bars. This week Chef Jason joins us in the kitchen making sous vide pork belly with crispy bau.
Instructions
Ingredients
2# pork belly
12 bao
Oil for frying bao
Marinade ingredients
2c Brown Sugar
2c Shoyu
1c Water
2pc Star Anise
3 stalk Green Onion, smashed
6 clove Garlic, smashed
Stir marinade ingredients into a bowl, soak pork belly in the marinade overnight.
Vacuum seal marinaded pork and sous vide at 160 degrees for 12 hours
Pickled Red Onion
1 onion
½ cup rice vinegar
½ cup sugar
½ cup water
1 tsp salt
Slice onion and stir together with other ingredients
Kim Chee Paste
1 cup Korean chili flakes
¾ cup fish sauce
1-inch piece of fresh ginger peeled
3 Tbsp chopped garlic
½ small round onion
Add all ingredients into a food processor for 3-4 minutes, while stopping every minute to scrape down the side.
Ko Chu Jang Honey
2 Tbsp ko chu jang
2 Tbsp honey
2 Tbsp rice vinegar
1 tsp toasted sesame seeds
Mix together
Fry 12 bao at 350 degrees for 3-4 minutes or until brown in hot oil, then build layers in fried bao
To build, layer:
Ko chu jang honey:
Kim Chee Paste
Pork Belly
Pickled Red Onion:
Garnish: Micro Cilantro & Pea Tendrils
Summary
| | |
| --- | --- |
| Yield | |
| Source | Jason Takemura, owner, Bamboo Catering |
| Prep time | |
| Cooking time | |
| Total time | |
Ingredients
Notes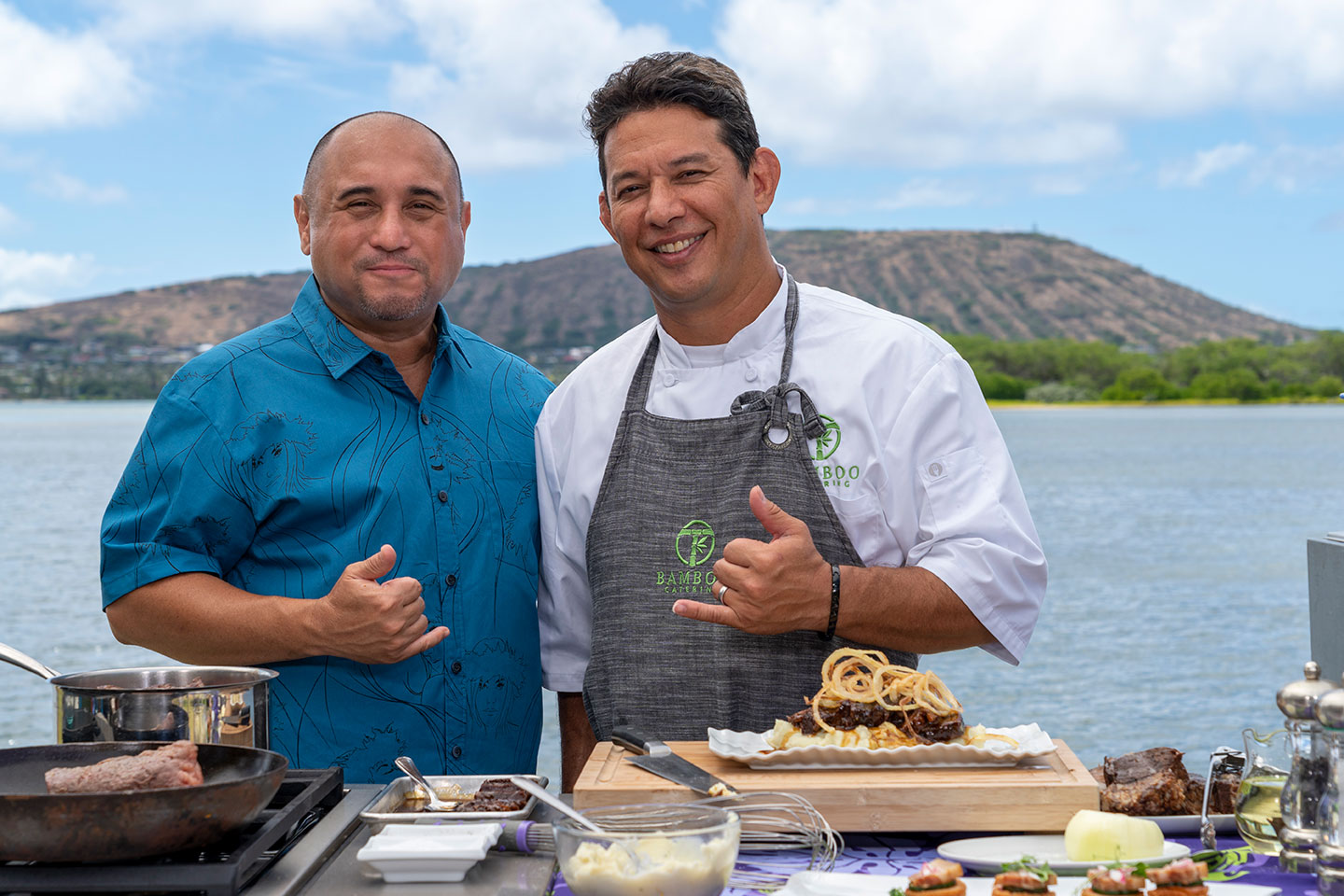 Copyright ©2020 Ryan Sakamoto. All Rights Reserved.