Description
In the kitchen this week we welcome Lani Shinsato from Hawaiian Electric. Lani is part of the Hawai'i Clean Energy environment and manages Hawaiian Electric's rooftop solar programs. She is responsible for developing policies and solutions to continue Hawai'i's leadership in customer adoption of solar and battery systems. Before joining the Hawaiian Electric team, Lani served as Commission Counsel at the Hawai'i PUC where she was the lead attorney on many clean energy proceedings. This week she is teaching us some of her favorite recipes. Hawaiian Electric has been such a great supporter of our community and preserving our local foods and we want to say mahalo to Lani and her whole team. Today she shares her recipe for tofu watercress salad.
Instructions
Tofu Salad
Ingredients:
2 blocks firm tofu, chopped in 1 inch cubes
Green Head Cabbage, sliced thin
1/4 cup furikake (the shaker style)
1 bunch green onion, chopped
1 large bunch cilantro, leaves removed from stem, chopped
Sauce:
4 cloves garlic, chopped
3 inches of ginger, sliced in thin strips
6 stalks green onion, sliced in 4 inch strips
1 Hawaiian chili pepper (or to taste), chopped
3/4 cup shoyu
1/2 cup sugar
1 tablespoon sake
1 tablespoon mirin
Vegetable oil for frying
Directions:
Saute slices of ginger, garlic and green onions in oil.  Add shoyu, sugar, mirin and chili pepper and mix until sugar is dissolved.  Let cool, then strain sauce and set aside.  Discard strained garlic, ginger, and green onion.
Assembly Instructions:
Make a bed of shredded cabbage on a platter with raised edges.  Place cubed tofu on top.  Sprinkle with furikake.  Top with cilantro, green onions and drizzle with sauce.  Serves 8-10.  Enjoy!
Summary
| | |
| --- | --- |
| Yield | |
| Source | Lani Shinsato |
| Prep time | |
| Cooking time | |
| Total time | |
Ingredients
2
Blocks Firm Tofu (chopped in 1 inch cubes)
1
Green Head Cabbage (sliced thin)
1⁄4 c
furikake (Shaker Style)
1 bn
Cilantro (leaves removed from stem, chopped)
3
Ginger (3 inch piece, sliced in thin strips)
6 bn
Green Onion (Stalks, sliced in 4 inch strips)
1
Hawaiian Chili Pepper (Chopped)
1
vegetable oil (For Frying)
Notes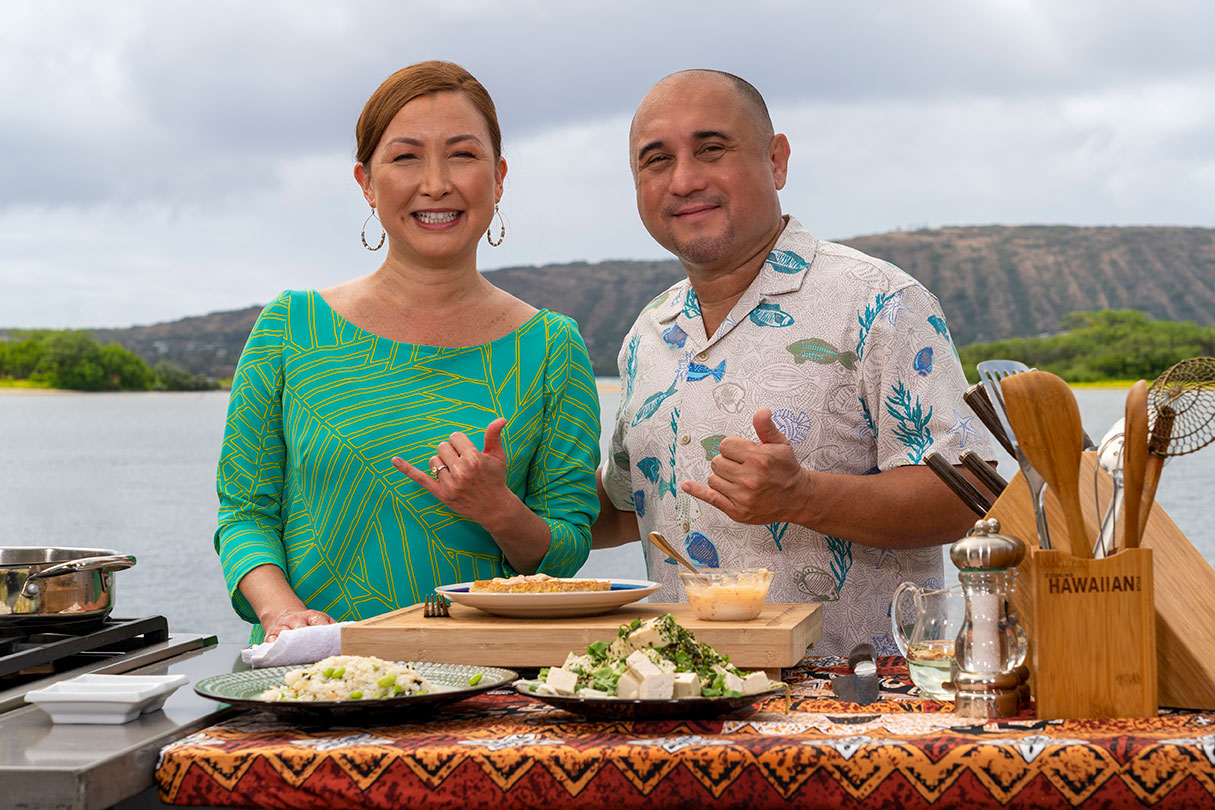 Copyright ©2020 Ryan Sakamoto. All Rights Reserved.