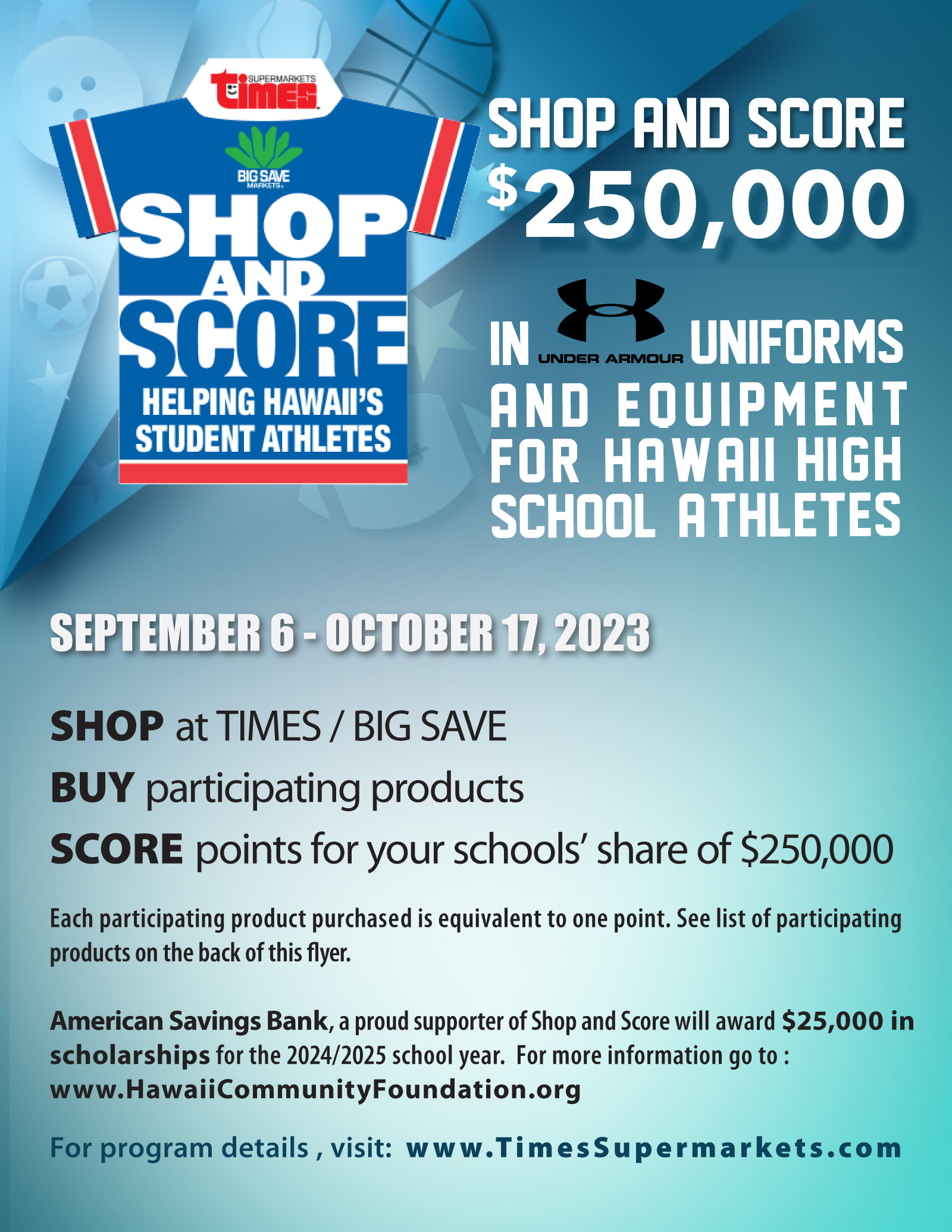 PROGRAM OVERVIEW
Shop and Score...helping Hawaii's student-athletes! Shop and Score is back for its 22nd year. From September 6 through October 17, 2023, shoppers can help public and private high schools on Oahu, Maui, Kauai, and Molokai earn a share of the $250,000 in FREE Under Armour athletic equipment and uniforms by shopping at Times/Big Save and designating a participating school of their choice. Over the past 21 years, Shop and Score has provided over $3.25 million in sporting equipment and uniforms to Hawaii's High School Athletic programs.
HOW TO SHOP AND SCORE TO SUPPORT YOUR FAVORITE HIGH SCHOOL
Starting Wednesday, September 6 through Tuesday, October 17, 2023, Times and Big Save shoppers can help their favorite participating high school earn a share of $250,000 worth of athletic uniforms and equipment.
- Shop between Sept. 6 – Oct. 17, 2023
- Buy participating Shop and Score products.
- Tell your cashier what high school you'd like to support. The designated high school receives the points.
At the end of the program, each school will receive a percentage of the $250,000 Shop and Score athletic funds based on their equivalent percentage of total points earned.
SHOP AND SCORE HISTORY
The Times Shop and Score program began in 2001 as a partnership with Kraft Foods and Sportsline Inc. with an objective to support Hawaii's high school athletic programs. Times, Kraft, and Sportsline recognized the importance of high school athletics and its role in developing character, teamwork, and self-esteem in Hawaii's young adults. The program supports our student-athletes by providing athletic equipment and uniforms to our community school's athletic departments.
Since its inception 21 years ago, Shop and Score has donated over $3.25 million worth of sports equipment and uniforms. What had started out as a partnership with Kraft Foods has now grown to include 18 food sponsors and a partnership with American Savings Bank to providing $25,000 in academic scholarships to outstanding students.
PARTICIPATING PRODUCTS

PARTICIPATING SCHOOLS